For all kids, ages 2-102
Activities during Great Prayer Day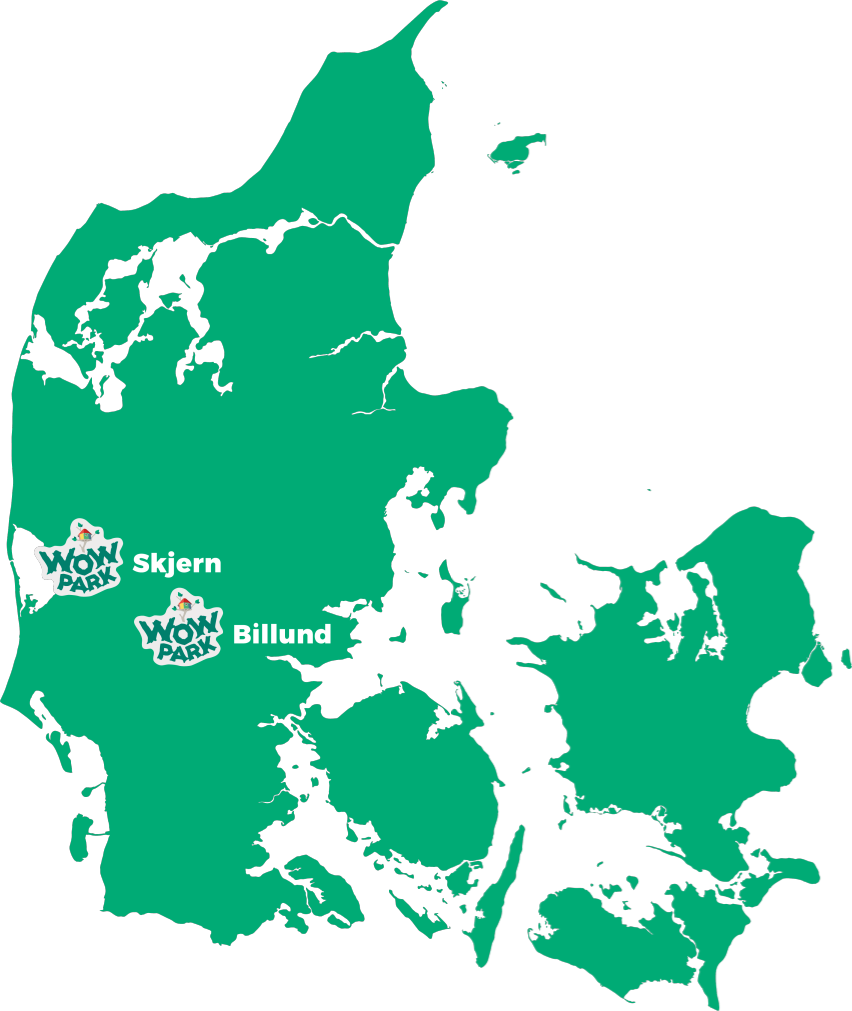 Fun family adventure for Great Prayer Day 2023
Enjoy this special Friday holiday in the great outdoors. If you're looking for family activities for both children and adults during Great Prayer Day, then WOW PARK is the place to be. Your friends and family will enjoy physical play, fantasy adventure and cozy times around the campfire. There are also plenty of opportunities to observe your own family traditions in the park - a big meal, a fun game, enjoying the spring season outside, etc.

Seeya there!
Children's activities during Great Prayer Day
WOW PARK is a play and amuseument park in Jutland that can't be found anywhere else. It's an easy day trip from anywhere in mid or south Jutland. You're sure to enjoy tons of fun challenges and unique experiences for all ages.
Enjoy an active day outdoors with friends and family, playing among the treetops, running along the forest floor, and even exploring underground. Pet our friendly goats, play on the giant swings and hang out around the campfire and grill. Dogs are also welcome in WOW PARK.
Read more about WOW PARK Billund
Read more about WOW PARK Skjern
Good reasons to visit WOW PARK on Great Prayer Day
check Creative activities for everyone
check Enjoy a fun day in the great outdoors
check Test your climbing skills in the wilds of west Jutland
check Try new challenges and adventures
check Be together with friends and family
check Relax together in the picnic area or play in the treetops, on the slides, in the maze, or on the giant water pillow.
Fantastic fun park in the top of trees. This is for everyone big and small, young and old wanting to be active and have fun. All activities are built in such a way that you can play safely in the park and only concentrate on having fun.
Katja Damkjær Spliid
Activities for everyone
Climb up, slide down and swing around
Challenge yourself in the great outdoors by running through the treetops across suspension bridges hanging up to 14 meters high, swinging on giant Tarzan ropes, and even exploring secret hideouts underground.
Bring the whole gang
Visit with your friends, family, teammates or co-workers
Jutand Experiences on Great Prayer Day
Enjoy an awesome family adventure day where mom, dad, grandma and grandpa, can join the kids in some good old-fashioned fun in the great outdoors - featuring some modern engineering and sky-high excitement.
Many families enjoy this Friday holiday together, and both WOW PARK Skjern and WOW PARK Billund are perfect places for spending time together outside, having a lot of playful fun in the trees, and enjoying a big meal together inside in the food court or at the grill and picnic area. Dogs are also welcome.
Seeya there!