An amusement park full of playful learning
Kindergarten visit to WOW PARK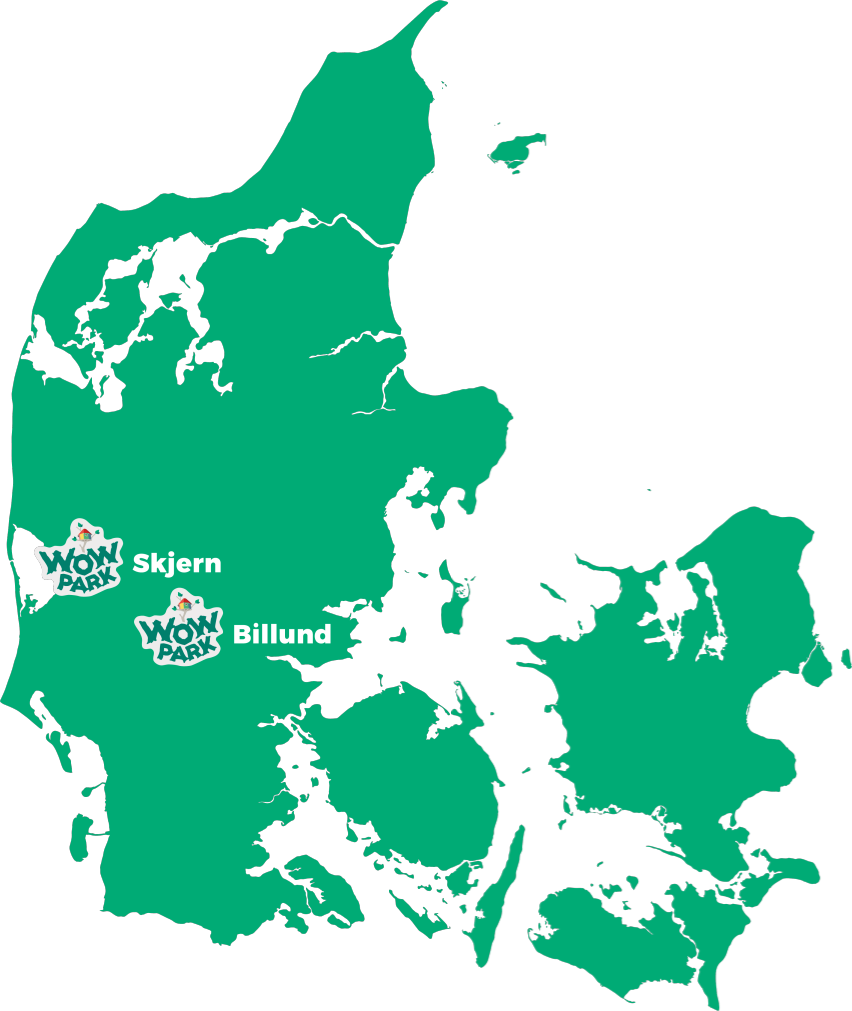 Outdoor play activities for kindergartens
WOW PARK lies in the middle of a beautiful forest, where kids can enjoy physical play, fantasy adventure, and tons of fun activities in the great outdoors all day long.
So much fun that they won't want to go home
You can run through treetops, slide down giant slides, scurry across the forest floor, explore underground hideouts and even splash in the water. WOW PARK is fun for everyone from age 2-102. Try new challenges together in the fresh air and create memories for a lifetime. There are also many options for enjoying meals in WOW PARK, whether purchasing food indoors or grilling food outside in the picnic area.
The park is full of fun activities for kids
WOW PARK is the perfect place for little ones. Your group can play and explore at your own pace, stopping to explore insects and flowers or just relaxing on the hammocks. Of course, there are lots of things to climb on and slide down, making a visit to the park full of healthy, educational fun. You can easily spend all day with us. Seeya there!
Extra discounts for schools, after school clubs and kindergartens
Read more about WOW PARK Billund
Read more about WOW Park Skjern
Good reasons to visit WOW PARK
check Creative activities for everyone
check Enjoy a fun day in the great outdoors
check Test your climbing skills in the wilds of west Jutland
check Try new challenges and adventures
check Be together in the fresh air
check Relax together in the picnic area or play in the treetops, on the slides, in the maze, or on the giant water pillow.
Beautiful place - where we spent many hours"
Heidi Berner
Activities or everyone
Climb up, slide down or swing around
Challenge yourself in the great outdoors. Run through the treetops across suspension bridges 14 meters high and swing from the branches on Giant Tarzan ropes. You can even explore underground or hang out in hammocks around the picnic area.
Visitor guide
Check out our visitor guide for tips on how to enjoy a perfect day at WOW PARK
Bring the whole gang
Visit with your friends, family, teammates or coworkers
Field trips are excellent opportunities for playful learning
There are great opportunities for physical play and fantasy adventure in WOW PARK.
Play is extremely important for children's development. Research indicates that play promotes children's well-being, learning and social skills. We help support this in WOW PARK. We simply love when children play outdoors.
"Walking out of the house strengthens children's imagination and the belief that they can handle unusual situations. Children's play culture is dependent on what they have experienced together," says playwright Ditte Winther-Lindqvist. (Source: https://bupl.dk/fagbladet-boernunge/).