Active holiday with children
Activities during the Autumn holiday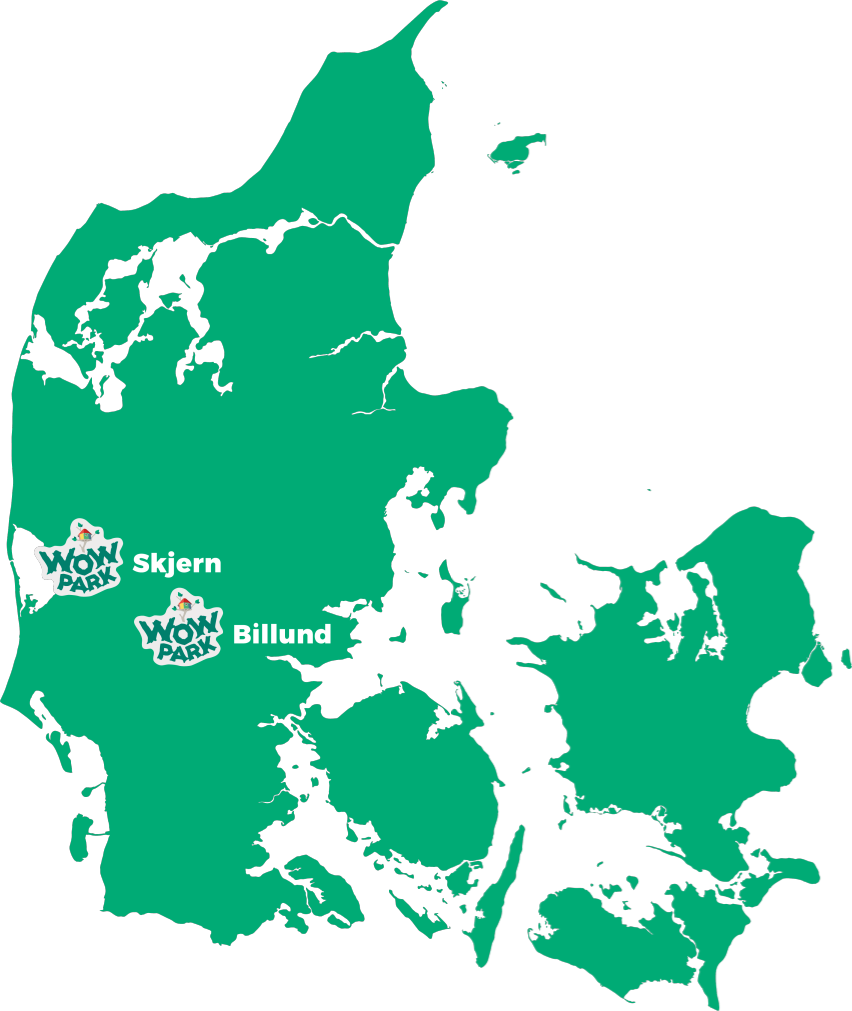 Activities for children during the Autumn holiday
Are you ready for an autumn holiday full of children's activities? Join us for Week 42, when you can take time off to relax together with friends and family.

Crawl like spiders – and huddle around the holiday bonfires.
If you're in southern or western Jutland, and looking for a fun, active, and unique autumn holiday, then WOW PARK is the place for you. WOW PARK Skjern (located near Ringkøbing Fjord) and WOW PARK Billund both offer an ideal family adventure with lots of outdoor activities.
Autumn holiday fun in the great outdoors
Choose WOW PARK this October and make the most of your family holiday.

Run through the treetops, explore the cabins in the canopy, and jump down giant slides all the way to the forest floor. There's something fun for everyone from age 2 to 102, with exciting challenges for children, parents, and grandparents. Test your wits in the maze and try to keep your balance in the gigantic nets full of huge bouncy balls. Enjoy the wildest swings in the woods, zooming up, down, and all around. We are sure you will have a terrific visit with your family and friends. And we look forward to seeing you at WOW PARK this autumn holiday.
Seeya there!
Read more about WOW PARK Billund
Read more about WOW Park Skjern
Good reasons to visit WOW PARK during the Autumn holiday
check Enjoy fun experiences for the whole family
check For everyone ages 2-102!
check Challenge yourself and test your boundaries in a fun and safe way
We were there with 3 boys, ages 5 and 8, and we had a fantastic day. There were tons of activities for everyone, and the boys had a super fun day."
Jane Wang Olesen
Activities for everyone
Climb up, slide down or swing around
Challenge yourself in the great outdoors. Run through the treetops across suspension bridges up to 14 meters high and swing from the branches on Giant ropes. You can even explore underground or hang out in hammocks around the picnic area.
Visitor guide
Check out our visitor guide for tips on how to enjoy a perfect day at WOW PARK
Autumn adventure for the entire family
WOW PARK lies in the middle of a beautiful forest, where guests can enjoy physical play, fantasy adventure, and tons of fun activities in the great outdoors all day long.
You can run through treetops, slide down giant slides, scurry across the forest floor, explore underground hideouts and even splash in the water. WOW PARK is fun for everyone from age 2-102. Try new challenges together in the fresh air and create memories for a lifetime. Dogs are also welcome in the park, but please remember a leash and some doggy bags.